Glencoe Management, Inc. was founded in 1987 by Tom McDonald and is based in Las Vegas, Nevada. The company was originally formed to manage the Burger King restaurants owned and operated by Highland Enterprises, Inc. and the Burger King real estate owned by Glencoe Properties, Inc. Glencoe, as a company, has continued to grow each year since 1987.
In 2008, Dunnottar Management, Inc. was established to operate Burger King Restaurants as part of Glencoe. Steve Keith is the operating partner and is the owner of the five Dunnottar restaurants currently operating in the Las Vegas Valley.
On October 1, 2015, Glencoe acquired 22 Burger King Restaurants, 21 in the Las Vegas Valley and 1 in Ft. Mohave, AZ. East Highland, LLC is the operating company for these 22 acquired restaurants and Tom McDonald and Steve Keith are partners in the ownership of East Highland. With this acquisition, Glencoe now oversees the operation of 42 Burger King Restaurants in Southern Nevada and 2 in Arizona, and Glencoe became the sole, non-institutional, Burger King franchisee in Southern Nevada.
In addition to the Burger King franchises, Glencoe is now involved in the management of other food concepts and businesses. Pride Bakeries, LLC was formed in 2007 to own and operate Panera Bread Bakery Cafés in North Orange County, California. Pride Bakeries currently operates 10 Panera Cafés and is actively growing in the North Orange County market. Glencoe is involved in the Panera operation through Tom McDonald's co-ownership of Pride Bakeries.
Skye Communications was formed in 2009 to own and operate T-Mobile Premium Retailer locations in the Las Vegas Valley. Skye Communications currently operates 16 locations throughout the Las Vegas Valley, including a location in Lake Havasu, AZ. In 2012, the owners of Skye Communications (Tom McDonald, Brian Bailes, and Mark McDonald) formed Skye Wireless to purchase and subsequently operate T-Mobile Premium Retailer locations in Southern California. Since the acquisition, Skye Wireless has added 9 more locations for a total of 15. The total number of T-Mobile locations operated by the two companies has grown to 31. Glencoe Management is involved in Skye Communications and Wireless through Tom McDonald's co-ownership of both entities. To find out more information about Skye Communications, visit www.skyecommunications.net.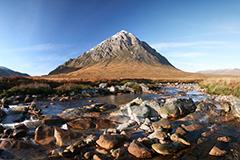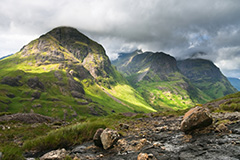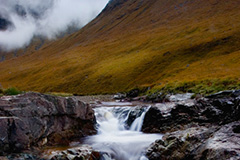 Glencoe Management derives its name from the scenic Glencoe region in the Western Highlands of Scotland. Glencoe was the home of the famous MacDonald Clan from the 1300's through the mid 1800's. "Glencoe" in Scotland is now a national park and part of The National Trust for Scotland.
Glencoe is famous worldwide as the most scenic and historic of all the Highland Glens.